Dental Implants in Snellville
---
Oak Road Dentistry provides dental implants in Snellville, GA. Call 770-985-9559 to learn more and schedule an appointment.
At Oak Road Dentistry we offer our patients various options in surgically placing and restoring implants as well as various fixed and removable solutions for missing teeth. Dr. Poore completed an advanced one year postgraduate residency program at Georgia Regents University that focused on dental implants, full mouth implant reconstruction, bone grafting techniques, and computer guided surgery.
---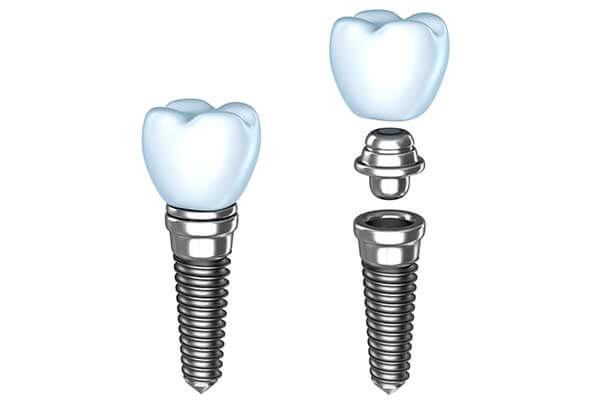 ---
What Are Dental Implants?
---
Dental implants are the preferred solution for replacing missing teeth because they are the only option that restores the roots of the teeth, preventing and even reversing jawbone loss. The result is a stable, long-lasting restoration that has the appearance, function, and feel of natural teeth.
We use computer-guided implant placement, which uses advanced software to create a 3D model of your jaw and teeth for a more precise surgical plan. With this model and our 3D cone beam CT radiographs, we can evaluate your bone quality and quantity and plan the ideal locations for each of your dental implants.
Most dental implant restorations involve the dental implant itself, which is a small post that is placed into the jawbone, a restoration to replace the visible portion of your tooth, and an abutment that connects the two. Dental implants can be used to support crowns, bridges, partial dentures, and full dentures.
---
Benefits of Dental Implants
---
Longevity
---
While the restoration that attaches to them may need replacement at some point, the dental implants themselves can last a lifetime with proper care and maintenance.
---
Better Health
---
The fact that dental implants prevent jawbone loss means better oral health, and better oral health means better overall health.
---
Improved Confidence
---
With dental implants, you'll never need to worry about going to a party and having to turn down dinner because you can't chew it; you won't have to deal with dentures that slip and cause slurred speech. You'll have the confidence to greet everyone you meet with a smile.
---
The Benefits & Importance of Dental Implants
Want to know more about why you should choose dental implants?
---
Are You a Good Candidate for Implants?
---
You are a candidate for dental implants if you are in generally good health, do not have active gum disease, do not smoke or use tobacco, and have adequate bone mass in the jaw to support implants. If you've suffered jawbone loss, a simple bone grafting procedure will be needed before you are a candidate for dental implants.
---
Why Choose Oak Road Dentistry
---
We use the latest in dental implant technology to ensure a successful outcome, including computer-aided surgical guides and 3D CBCT radiographs. Once your implants are placed, we provide high-quality ceramic restorations to fully restore your teeth in a way that looks, feels, and functions naturally.
---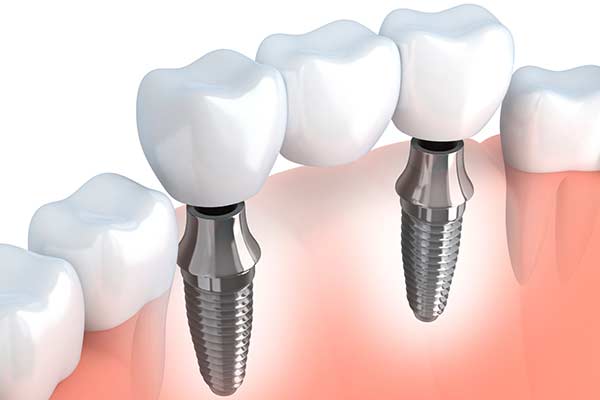 ---
Implant Supported Bridges
---
An implant supported bridge is a restorative solution for spaces where three or more adjacent teeth are missing. This restoration typically requires two implants to support the porcelain bridge. The bridge provides a functional and aesthetic replacement for a patient's natural teeth.
---
What are the advantages of an implant supported bridge?
---
Because of the natural look and feel of the porcelain and the functional stability provided by the implants, implant supported bridges are an effective solution to replace multiple missing teeth.
A traditional bridge uses teeth on either side of the gap where teeth are missing for support. An implant supported bridge uses two or more dental implants rather than the adjacent teeth. When a bridge uses natural teeth for attachment, the natural teeth must be prepped for crowns and are then subject to increased stress which may be damaging - particularly if the existing tooth, roots, or surrounding bone structure are already compromised. A dental implant supported bridge replaced your missing teeth and avoids putting any additional stress on your natural teeth.
---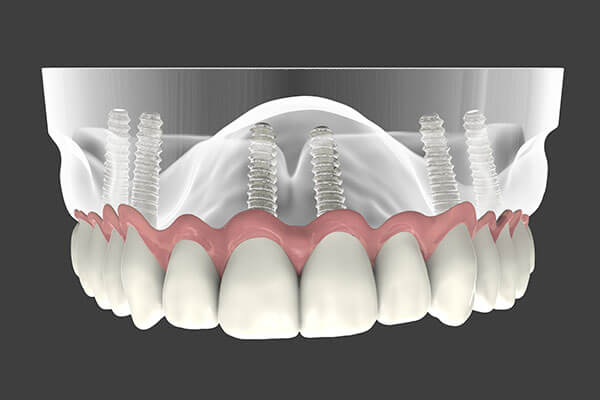 ---
Implant Supported Dentures
---
For patients who are missing many or all of their teeth, implant supported dentures may be an alternative to traditional dentures. This solution requires the placement of two or more implants. In order to replace a full arch denture, a minimum of four implants is generally recommended. Eligibility for this solution is dependent upon a number of factors, with jaw bone density being one of the most significant determining factors.
Traditional dentures rely on an acrylic base that sits directly on the gums, held in place by a paste or adhesive. Using implants as supports for dentures allows for a smaller and more comfortable base and less shifting of the prosthesis during use.
Implants can support both full and partial dentures as well as both fixed and removable dentures.  If a removable denture is selected, the denture will "snap" on to the implant rather than requiring the use of denture paste or adhesives. Removable dentures can be taken out for cleaning at night.
Why should I consider implant-supported dentures over traditional dentures?
---
This technique offers many advantages over traditional dentures.
Easy to care for, this solution can simulate the look and feel of natural teeth and stay fixed in place with the implants acting as anchors. Patients will not experience the typical rocking and movement or gum irritation associated with dentures.
Dental implant placement can also help alleviate the sunken look that can occur with bone loss in the jaw by stimulating bone growth in the area around the implant. This process can also help prevent future bone loss.
---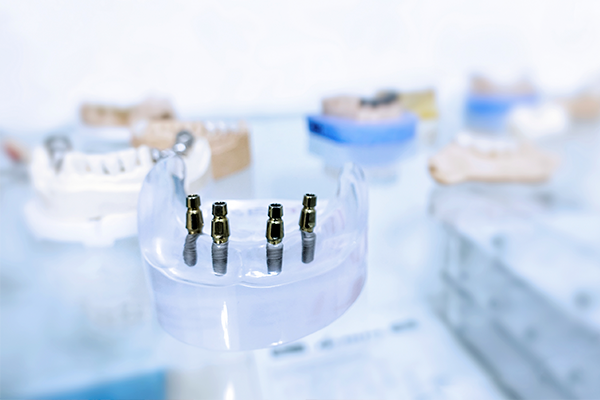 ---
Full Arch with Only Four Implants
---
This procedure is a unique implant solution that allows patients with a completely edentulous (toothless) upper or lower arch to replace all of the teeth in that arch using only four implants as anchors.
---
---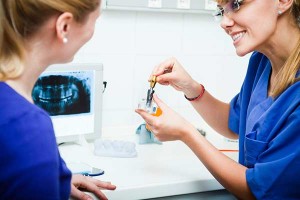 ---
Guided Implant Placement
---
At Oak Road Dentistry we have the latest technology including our new 3D Cone Beam CT radio graphs that give us 3-Dimensional views of the oral cavity, which allow us to virtually plan our procedures before surgery and give patients a realistic timeline of dental treatment. These virtual plans allow the doctor to take multiple aspects of implant placement and restoration into consideration, resulting in optimal aesthetics, function and longevity for the patient's final restoration.
Once planning is complete, specialized software can be used to create a surgical guide that can be used during implant placement. This guide directs the exact location, angle and depth of the implant placement.  The use of the guide increases the accuracy, efficiency and safety and predictability of the procedure.
---
---
Frequently Asked Questions About Dental Implants
---
How much do dental implants cost?
---
Because there are so many different types of dental implants and restorations, there is a lot of variation in the cost of dental implants. Scheduling a consultation is the best way to learn how much they will cost for your unique needs.
---
Who is not a candidate for dental implants?
---
Dental implants are not recommended for patients who use tobacco or have active gum disease. Other medical issues, especially those that impair your ability to heal after surgery or increase your risk of infection, can also prevent you from getting traditional dental implants. There may, however, be other dental implant procedures that could potentially be an option for you.
---
Is it better to get dentures or implants?
---
Every patient is unique, but in most cases, dental implants are preferred over dentures because they prevent jawbone loss.
---
Can I get a dental implant years after extraction?
---
Yes, you certainly can. Many of our patients get their dental implants years or even decades after they have had their teeth extracted. You are more likely to need bone grafting prior to your surgery, but there is no reason why this should prevent you from getting dental implants.
Call 770-985-9559 to schedule an appointment.
---